It's Bluefin Season on the OBX!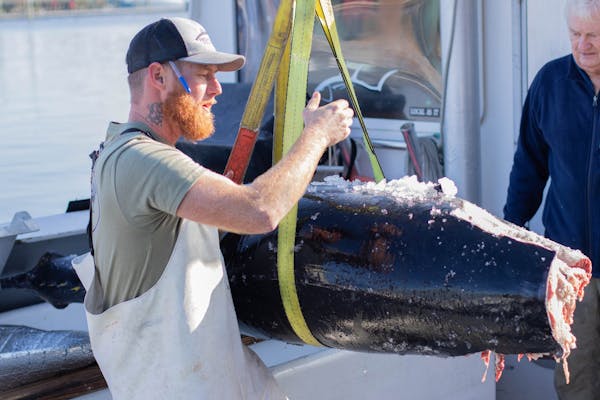 by Alana Harrison
WANCHESE, NC – With our retail market closed for the off-season, I have been spending some time in Wanchese at my friend's fish house. They have been busy processing shrimp and fish, particularly tuna! The South Atlantic Bluefin tuna season opened on January 1st so our local boats in addition to several Northern boats are fishing out of Oregon Inlet. The season up north ends around November and does not start again until around June 1st, this is why these boats come south. So, it has been an exciting few weeks around Wanchese Harbor!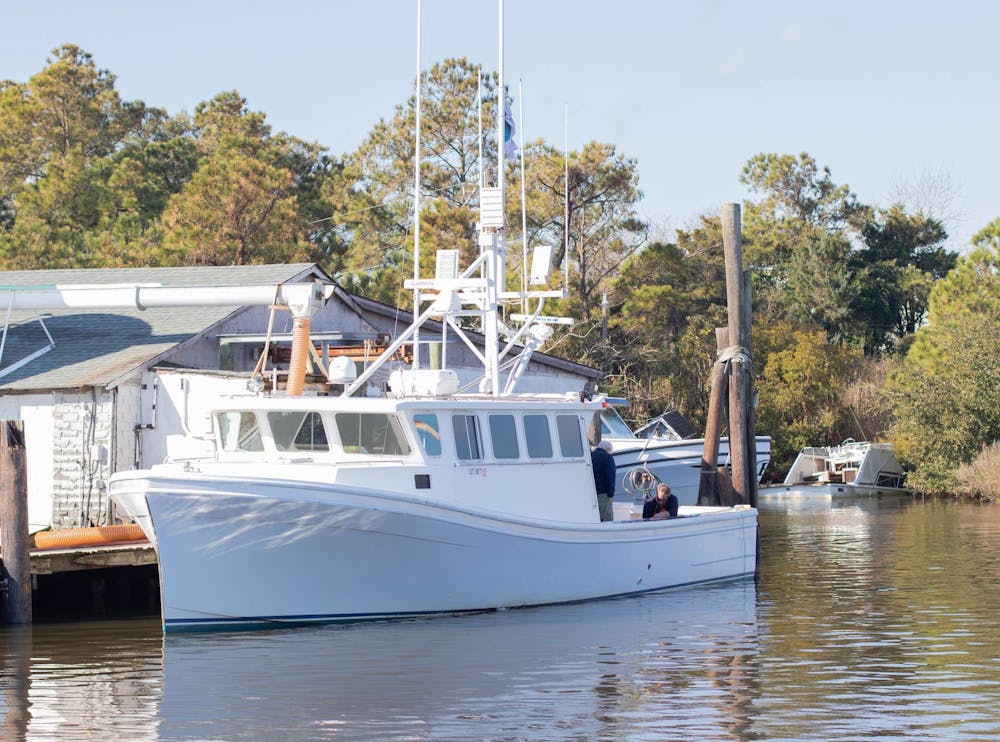 I arrived at the fish house in Wanchese shortly after sunrise and it was already bustling away with shrimp. Heading shrimp is a cold job - the fish house is open air with cement floors and the shrimp are ice cold. Your fingers go numb eventually; this is when I stop for a plunge in hot water to thaw my hands then I'm good for another fifty pounds! The men and women were heading away what F/V Big Dave unloaded the night before, I was thankful they did not need my help!
I walked out on the dock and see a beautiful commercial boat arriving at the harbor, Eric, the fish house manager gets busy preparing a pallet and gathering the straps to hoist the fish off the boat. F/V Moonshine pulled up to the dock and out of the cabin comes the captain, ready to oversee the unloading of his prized Bluefin Tuna.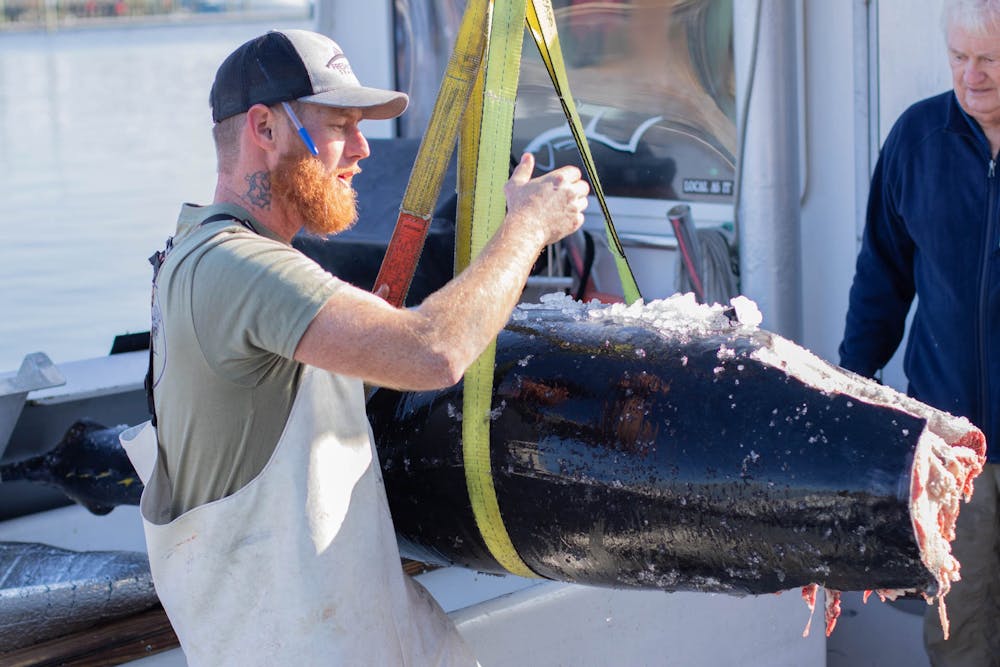 This was the northern fishing legend I had been hearing about – Spurgen. He is not to be confused with our own Hatteras Village fishing legend, Spurgeon who operated village headboat, Miss Hatteras, for decades. But the name is rare! It is only the second time I had heard it, so I asked if he was named after the Baptist preacher like Hatteras Spurgeon. They told me no, his is spelled -en not -eon and that they had this conversation with Spurgeon when they met him 25 years ago! We got to talking and I forgot to ask the origin of his name, I will ask next time.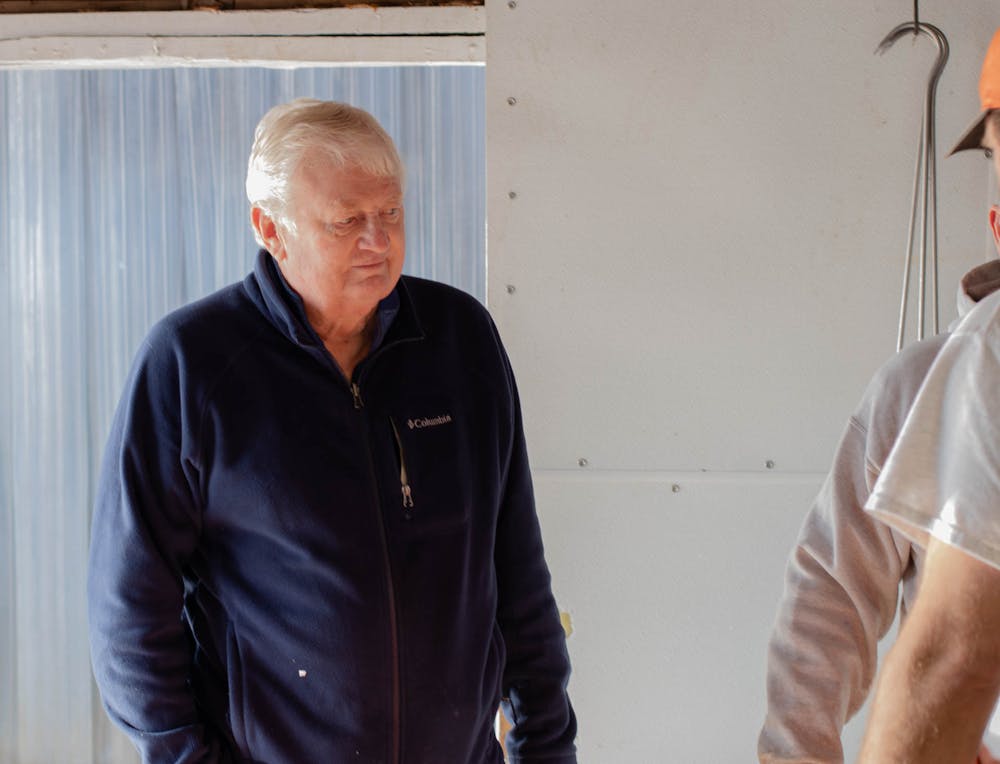 Spurgen is 78 years old and fishes with his son aboard F/V Moonshine out of Manasquan, New Jersey. They target Bluefin Tuna up North while their home waters are warm then move south as the tuna migrate to the warm Carolina waters. The tuna dealers follow the tuna boats south and so I also had the pleasure of meeting PJ a tuna buyer out of Gloucester, Mass. Like the fishermen he follows the Bluefins south in the winter as well.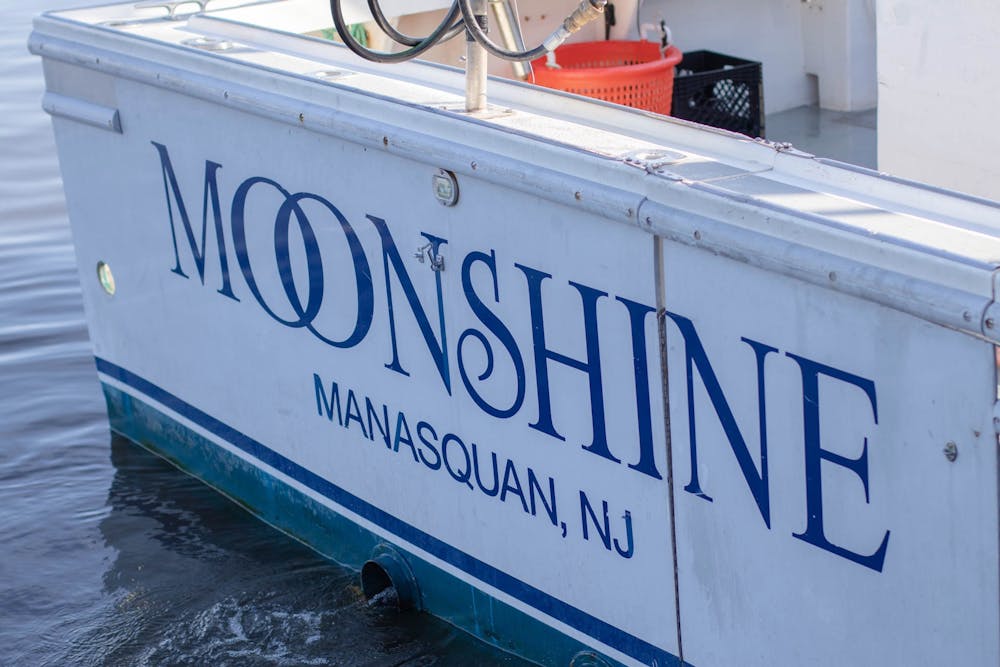 Moonshine's giant tuna was gently unloaded from the ice hold, it was like watching a present be carefully unwrapped. The heavy lid was removed from the ice chest, then a silver insulated blanket was taken off, the top layer of ice was shoveld off, then finally the tuna was ready to be lifted out. The hoist is brought over to help lift these large fish off the boats, it was laid on a plastic pallet and wheeled into the fish house where its temperature is immediately recorded. PJ wastes no time securing a federal id tag on the fin, this number is unique to every Bluefin and is traced throughout its life.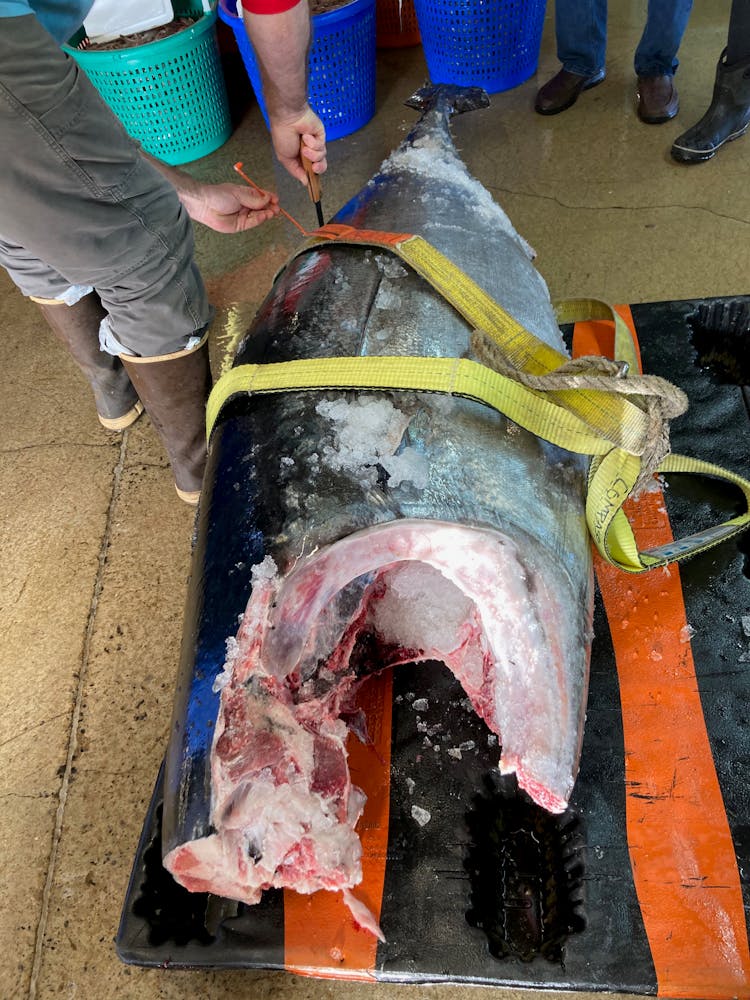 A half moon is sliced from near the tail, this sinewy meat is not missed at the sushi market but it gives the dealer a clear picture of color and fat distribution of the entire fish. A core sample is taken with a long metal tool, almost as if you took a drinking straw and removed a piece of meat. The core sample is taken from under the fin all the way to belly so it is a great way to measure quality of the entire fish.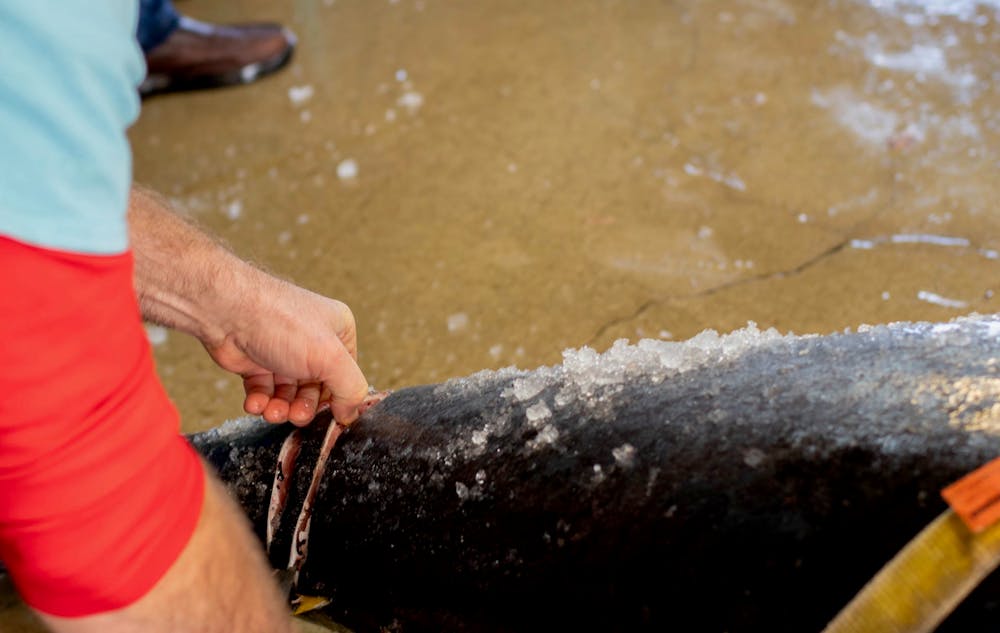 While the boys ceremoniously packaged the bluefin in a special box full of fresh ice, PJ went onto the dock. He came back after about ten minutes with two pieces of meat each about six inches long by three inches wide with a silver skin, it looked incredibly similar to beef tenderloin. He passed it to Eric, who had a cutting board ready, he took the meat and began trimming the silver skin off. I asked, "what is this?" Eric told me it was Bluefin head steaks.
Wondering if this was something going to market alongside the whole fish or if it was trimmings, I asked what he was going to do with it. He replied, "eat it for sushi tonight." Once he was finished trimming the head steaks he asked if I wanted to try a piece. Of course I do! I never turn down eating bluefin, even if it is just a slice of the raw head steak at the fish house, it feels just as special to me as sitting down in an Omakase restaurant because those I am standing with have a deep reverence for the bluefin just as I do.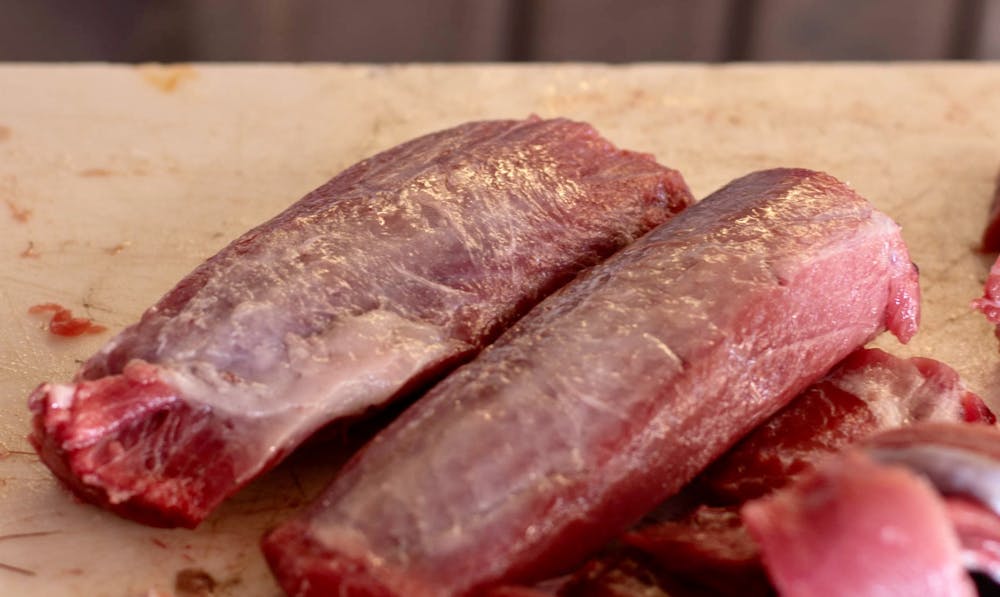 I took the slice of bluefin and it melted in my mouth, not much flavor coming through yet but the texture is great! Raw tuna is best ate a few days after capture because the umami flavors and sugars need time to develop. I am still exploring cooking Bluefin as this is not something we really do – all commercial fishermen I know eat it raw! Poke or sashimi is how I usually have it when I'm with fishermen, if I know we are having sushi I bring supplies to make Nigiri or Maki. I like making spicy tuna rolls from the tail steaks - the piece the grader cuts out. This close to the tail is very sinewy so this tough tendon needs to be cut out, it is too chewy to eat as sashimi in my opinion. More on Bluefin recipes next week!