Tuna Seared with an Asian Glaze
Fish is one of the world's best natural sources of Omega-3 Fatty Acids - especially tuna! These essential fats are building blocks for the membranes that surround each cell in your body, especially important in eye, brain, and sperm cells.
Omega-3s are most abundant in cold-water fatty fish such as tuna, mackerel, salmon, herring, bluefish. For example, one four ounce serving of tuna has has the full 1.5g daily recommend serving of omega-3s. In comparison you would need to eat one pound of steamed shrimp to get the same amount as one small tuna steak! One four ounce serving of mackerel has 2x the daily recommended amount - which we are starting to catch king mackerel so more about this superfish later on.
Did you know the way in which fish is cooked can affect levels of essential fats? Canning fish destroys a large portion of omega-3s. Delicate cooking methods, such as grilling, broiling, light pan cooking, baking, steaming, smoking are best for preserving these oils. For example, tuna is considered an oily fish only if it is fresh not if its canned. Canning reduces the omega-3 fatty acids to levels similar to those in your standard white fish.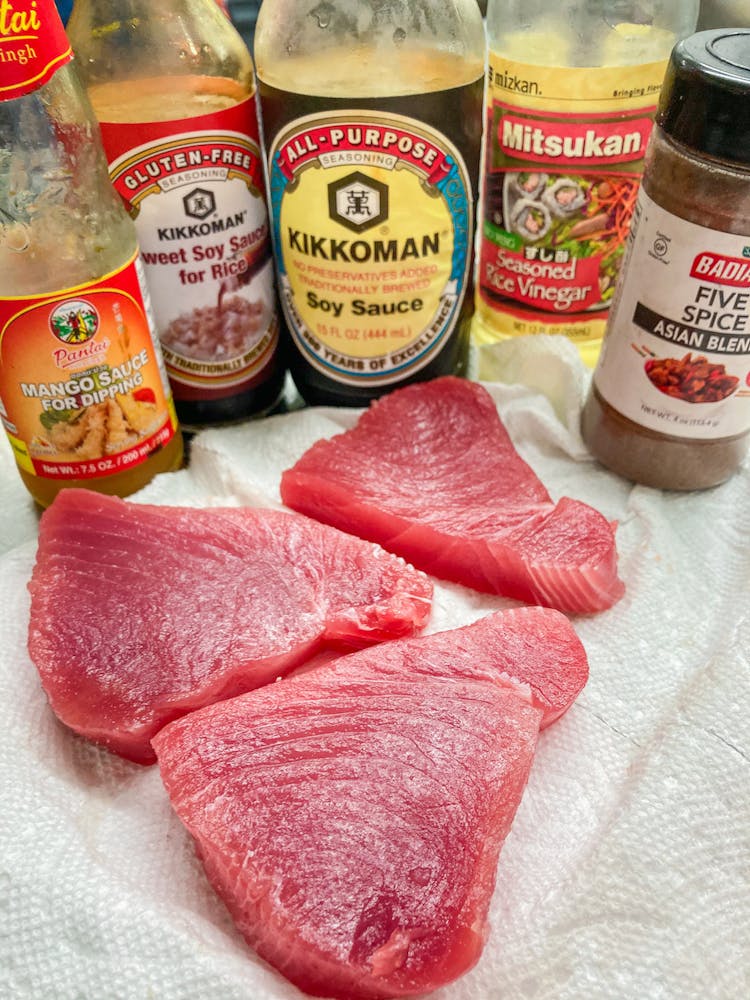 For this dish I sprinkled Chinese 5 spice on top of the steaks, seared in olive oil over med-high heat about 1.5 minutes on each side. Tuna is easy to cook in a pan because you can watch it turn white, when it is white half-way up flip it. Let cook for another minute or so depending on your level of doneness. Tuna has flakes that separate as you cook, take a fork and gently twist in between two flakes. This way you can see how rare it is but remember it will continue to cook once you remove it from the pan. So take it off when it is rare if you want medium, remove it at medium if you want it well-done.
So while our steaks are resting on a plate we make the sauce. For these three steaks which was about a pound this is what I added next: ~2T soy sauce, 1T sweet soy sauce, 1T rice vinegar, 1T mango sauce (you can also use sweet chili but I was out). Let this simmer and reduce for a couple minutes tasting and adjusting the flavor as needed. I served the tuna along stir fried onions, mushrooms, and bell peppers that I seasoned with a splash of seasoned rice vinegar and sweet soy sauce.
I love Asian marinades and sauces with my tuna - in my personal opinion they have the balance of sweet, sour, salty, savory figured out. Once you stock your pantry and start cooking you will learn how these flavors play off each other. Too sweet, add more sour. Too sour, add more sweet. Too slaty, add more sweet or sour. Too spicy, add more sweet.
For this recipe I used mango sauce and sweet soy sauce - which I just discovered and is very nice. I use about 1 part sweet to 2 parts regular soy sauce. I only had seasoned rice vinegar on hand but regular rice vinegar works as well. But if you haven't tried the seasoned vinegar it is fabulous on salads and you can use this to season sushi rice as well.